Ever since
my run in with LC at Warren Tricomi
I have felt a certain affinity with her. Mostly because we share the same initials and stylists but also because both of our brow makeovers have done wonders. Yesterday
Sigrid
attacked my bushy brows almost while I was at my desk. After 10 years of brow misshaping, I have given Sigrid permission to do anything she wants with mine. She was the first woman to move the arch in my brow to align with the outer edge of the iris and for girl with a naturally high arch, it's the only way to go. For more brow know how check out these celebrity before and afters.
From pencil-thin to insanely bushy, see how stars like Madonna, Tyra Banks and Mariah Carey have tamed their unruly brows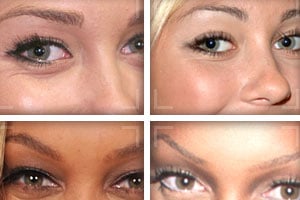 Brows hold center stage in the beauty world. Why? Because they can make an amazing difference in how you look. Check out our gallery to see the improvements your favorite celebrities have made to their brows over the years and decide if you should step up your brow maintenance. Even if you have to lay off the tweezers for weeks ... it's worth it.